Your own personal vintage-style dress
Imagine your own vintage-style dress, made from an original pattern or from my own designs, to the highest quality possible. Perhaps you've got that special occasion coming up, or maybe you just feel like treating yourself. Either way, it couldn't be easier to look good and feel great with a statement dress fitted just for you.

I will offer you a personal service where every detail is considered, from style, to fabric, through to detail and petticoats. Together we'll ensure that your own unique style shines through. Prices start from just £200. I like to charge a fair price for a high quality, personalised service...
Please feel free to browse through some previous designs before getting in touch.
The fitting process - it's as easy as 1, 2, 3...
1. Contact me, either by phone or email, to book a consultation: we'll sit down at my premises with a cup of tea and discuss your needs. If you're happy I'll take your measurements and deposit, and give you an idea of a delivery time.
2. Then, I'll make the dress for you within the agreed timescale. We'll meet a second time for a final fitting. This allows us to identify those final adjustments which will really make the piece your own...
3. I'll then make those adjustments, after which your dress will be ready for collection (I am happy to arrange for dresses to be delivered via courier; an additional fee is charged for this service).
As you can see, these dresses are of the highest quality. If you like what you see then contact me today.
Contacting Amanda at Dressing Miss Daisy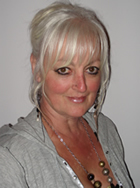 Contact me now by phone or email. I'll go through your requirements and explain how it all works. I'm thorough and professional in my work, but also very friendly and down to earth. Dressmaking is my passion. It couldn't be easier to get your own, unique classic fitted dress. I really look forward to hearing from you!
Phone: 07854 757673
email: info@dressingmissdaisy.co.uk
Dressing Miss Daisy - Evening Gowns Manchester