My passion for dressmaking...
At the age of seven I was given my first sewing machine... It was the beginning of a life-long passion for making dresses...

I had the best dressed dolls (and dog - poor thing!) and my enthusiasm for dressmaking just grew and grew. By the time I'd reached my teens I was making clothes for myself, my family and even my friends! I studied Interior Design at college and continued to make dresses for friends and family. Quality has always been really important: it was always so satisfying to enjoy people's reactions when they tried on their unique fitted dresses for the first time.
Focused on the individual
I still get excited when people first try on their dresses! These days I specialise in creating vintage-style dresses from original patterns and my own designs, all with a modern twist. I never duplicate any garment I make and no two dresses are ever the same. Each dress an individual statement piece. My passion for quality still shines through, and I know you'll be happy with the results.

Contacting Amanda at Dressing Miss Daisy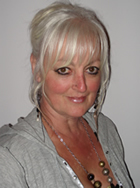 Contact me now by phone or email. I'll go through your requirements and explain how it all works. I'm thorough and professional in my work, but also very friendly and down to earth. Dressmaking is my passion. It couldn't be easier to get your own, unique classic fitted dress. I really look forward to hearing from you!
Phone: 07854 757673
email: info@dressingmissdaisy.co.uk
Dressing Miss Daisy - Dressmakers Cheshire